In addition to custom website development and design, Vautour Design Studio also offers several professionally designed website templates for our clients that are struggling with budget constraints. Using one of our pre-developed templates cuts development time considerably allowing us to offer these websites at a significant discount.
Five-page websites starting at only $600.00!
Simply choose from one of several professionally developed website templates below. Then you supply us with the text, photos, etc you would like incorporated into the template and we'll do the rest. In no time, you'll have a professional web presence you can be proud to show to clients and friends.
*Exclusive and unique usage licenses are also available for clients who would like to purchase the template outright.
Contact us for more details on using a template for your website or additional info about our usage licensing for templates.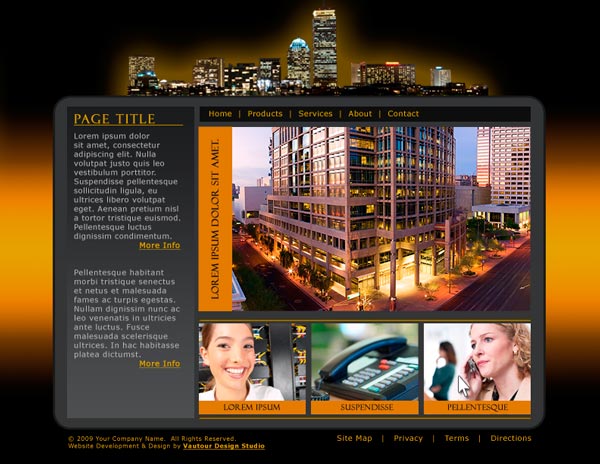 Cadmium Radiance
Like the template but not the color scheme?
No problem. We will adjust the template to a color scheme of your choosing. All template photos and logos are replaced with your photos of your business and your company logo. (Photography services are available if needed.)
Standard Usage License: $100.00 (waived with VDS web development contract)
Exclusive Usage License: $1,000.00
Unique Usage License: $2,000.00
Developer's License: Not Available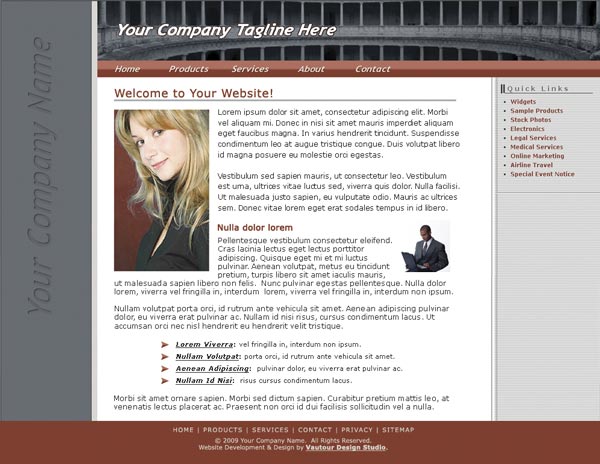 Corporate Vermillion
Like the template but not the color scheme?
No problem. We will adjust the template to a color scheme of your choosing. All template photos and logos are replaced with your photos of your business and your company logo. (Photography services are available if needed.)
Standard Usage License: $100.00 (waived with VDS web development contract)
Exclusive Usage License: $1,000.00
Unique Usage License: $2,000.00
Developer's License: Not Available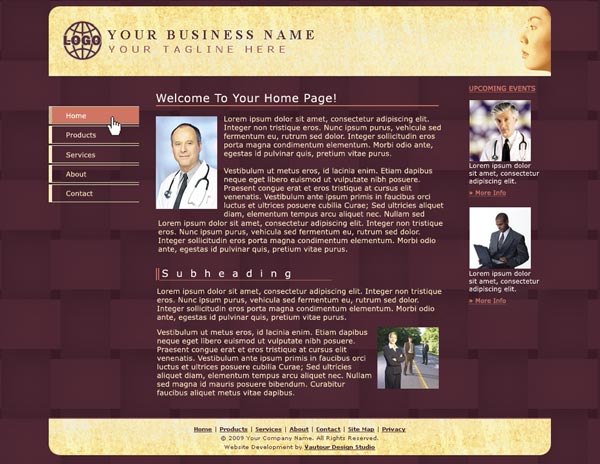 Burgundy Pro
Like the template but not the color scheme?
No problem. We will adjust the template to a color scheme of your choosing. All template photos and logos are replaced with your photos of your business and your company logo. (Photography services are available if needed.)
Standard Usage License: $100.00 (waived with VDS web development contract)
Exclusive Usage License: $1,000.00
Unique Usage License: $2,000.00
Developer's License: Not Available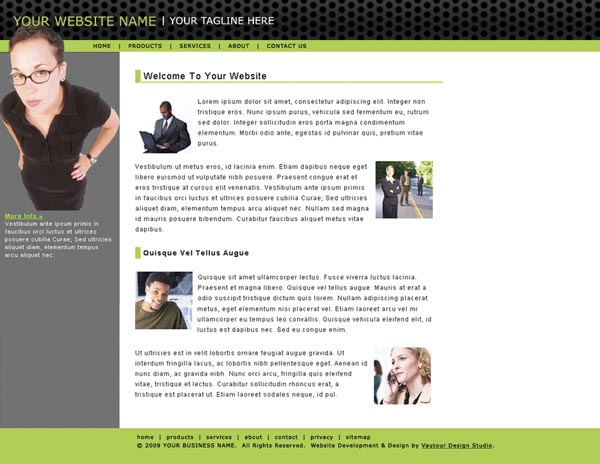 Green Envy
Like the template but not the color scheme?
No problem. We will adjust the template to a color scheme of your choosing. All template photos and logos are replaced with your photos of your business and your company logo. (Photography services are available if needed.)
Standard Usage License: $100.00 (waived with VDS web development contract)
Exclusive Usage License: $1,000.00
Unique Usage License: $2,000.00
Developer's License: Not Available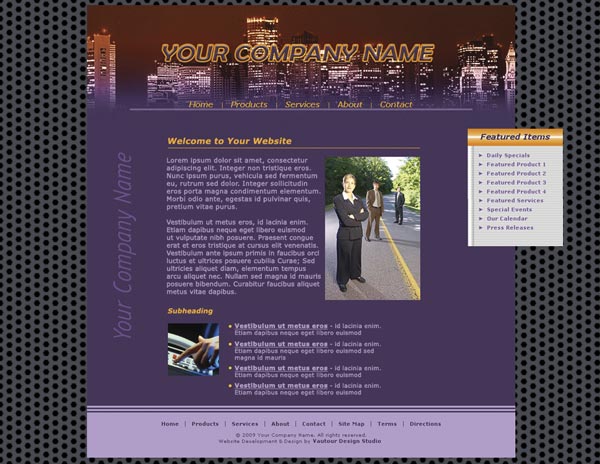 Heliotrope Vigor
Like the template but not the color scheme?
No problem. We will adjust the template to a color scheme of your choosing. All template photos and logos are replaced with your photos of your business and your company logo. (Photography services are available if needed.)
Standard Usage License: $100.00 (waived with VDS web development contract)
Exclusive Usage License: $1,000.00
Unique Usage License: $2,000.00
Developer's License: Not Available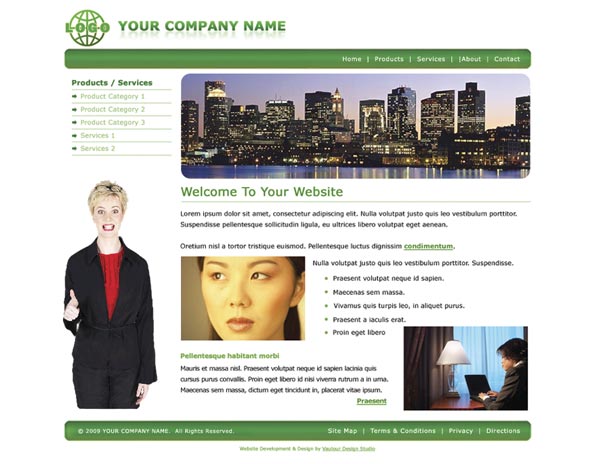 Jade Harmony
Like the template but not the color scheme?
No problem. We will adjust the template to a color scheme of your choosing. All template photos and logos are replaced with your photos of your business and your company logo. (Photography services are available if needed.)
Standard Usage License: $100.00 (waived with VDS web development contract)
Exclusive Usage License: $1,000.00
Unique Usage License: $2,000.00
Developer's License: Not Available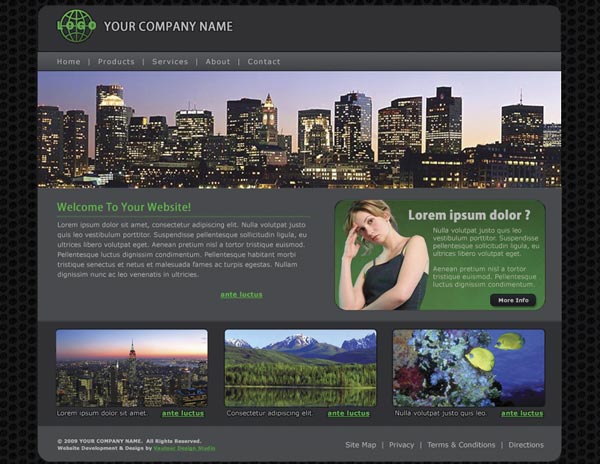 Modern Slate
Like the template but not the color scheme?
No problem. We will adjust the template to a color scheme of your choosing. All template photos and logos are replaced with your photos of your business and your company logo. (Photography services are available if needed.)
Standard Usage License: $100.00 (waived with VDS web development contract)
Exclusive Usage License: $1,000.00
Unique Usage License: $2,000.00
Developer's License: Not Available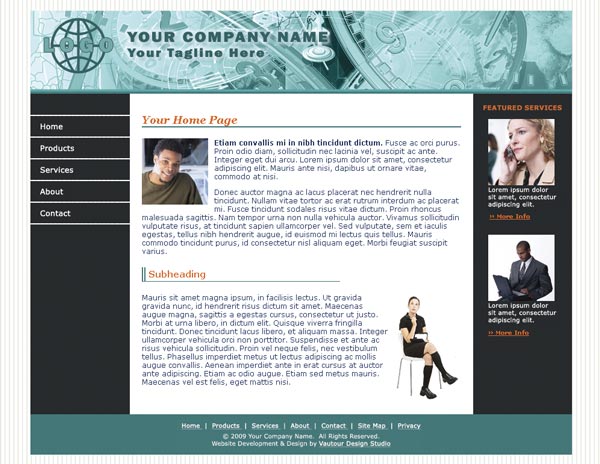 Teal Bliss
Like the template but not the color scheme?
No problem. We will adjust the template to a color scheme of your choosing. All template photos and logos are replaced with your photos of your business and your company logo. (Photography services are available if needed.)
Standard Usage License: $100.00 (waived with VDS web development contract)
Exclusive Usage License: $1,000.00
Unique Usage License: $2,000.00
Developer's License: Not Available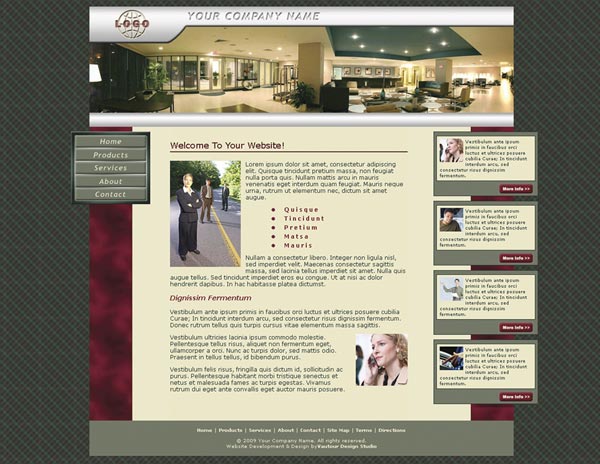 Urban Sage
Like the template but not the color scheme?
No problem. We will adjust the template to a color scheme of your choosing. All template photos and logos are replaced with your photos of your business and your company logo. (Photography services are available if needed.)
Standard Usage License: $100.00 (waived with VDS web development contract)
Exclusive Usage License: $1,000.00
Unique Usage License: $2,000.00
Developer's License: Not Available