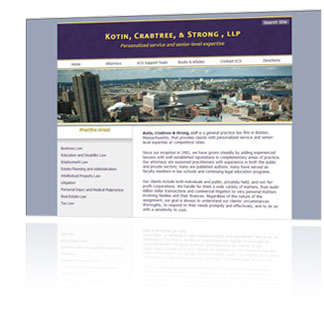 Kotin, Crabtree & Strong, LLP is a general practice law firm in Boston, Massachusetts, that provides clients with personalized service and senior-level expertise at competitive rates.
Since it's in 1981, it has grown steadily by adding experienced lawyers with well-established reputations in complementary areas of practice. Their attorneys are seasoned practitioners with experience in both the public and private sectors; many are published authors; many have served as faculty members in law schools and continuing legal education programs.
Their clients include both individuals and public, privately-held, and not-for-profit corporations. KCS Legal handles for them a wide variety of matters, from multi-million dollar transactions and commercial litigation to very personal matters involving families and their finances.
Technologies used: XHTML, CSS, Flash, JavaScript
Click Here to view the live site.
* Designed under contract for the Social Law Library.