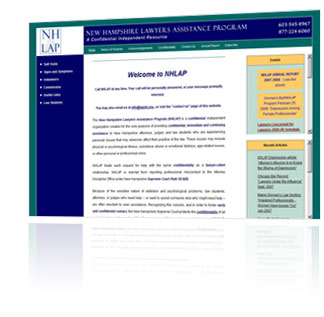 The New Hampshire Lawyers Assistance Program (NHLAP) is a confidential, independent organization created for the sole purpose of providing confidential, immediate and continuing assistance to New Hampshire attorneys, judges and law students who are experiencing personal issues that may adversely affect their practice of the law. They help lawyers and their families with a wide range of issues including physical or psychological illness, substance abuse or emotional distress, age-related issues, or other personal or professional crisis.
Technologies used: XHTML, CSS, JavaScript, Adobe Contribute
Click Here to view the live site.
* Designed under contract for the Social Law Library.
** Currently being maintained by client with Adobe Contribute.