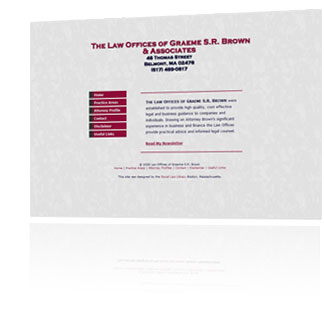 The Law Offices of Graeme S.R. Brown were established to provide high quality, cost effective legal and business guidance to companies and individuals. Drawing on Attorney Brown's significant experience in business and finance the Law Offices provide practical advice and informed legal counsel.
Attorney Brown's practice emphasizes business law, including contracts, employment law, litigation management, financings and due diligence. Graeme has more than 20 years of executive level experience, with 7 years as in-house counsel to publicly-traded companies and, prior to law school, 14 years working with various financial services entities including National Westminster Bank PLC and Fleet National Bank. Graeme Brown draws on a depth of experience dealing with a broad spectrum of business issues and situations.
Technologies used: XHTML, CSS, JavaScript, (table-less design)
Click Here to view the live site.
* Designed under contract for the Social Law Library.