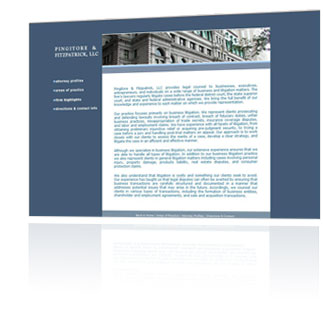 Pingitore & Fitzpatrick, LLC provides legal counsel to businesses, executives, entrepreneurs, and individuals on a wide range of business and litigation matters. The firm's lawyers regularly litigate cases before the federal district court, the state superior court, and state and federal administrative agencies.
This practice focuses primarily on business litigation. They represent clients prosecuting and defending lawsuits involving breach of contract, breach of fiduciary duties, unfair business practices, misappropriation of trade secrets, insurance coverage disputes, and labor and employment claims. They have experience with all facets of litigation, from obtaining preliminary injunctive relief or acquiring pre-judgment security, to trying a case before a jury and handling post-trial matters on appeal.
Technologies used: XHTML, CSS, JavaScript
Click Here to view the live site.
* Redesigned under contract for the Social Law Library.