Welcome to our client testimonials page. At Vautour Design Studio we always work diligently to keep our clients' needs and desires in mind regardless of the size or scope of the project. We are always committed to your success. So we never cut corners or negelect any part of the development process. Our clients are our reason for being here and we make a point of never losing sight of that fact.
See what Vautour Design Studio's clients have to say about us below.
---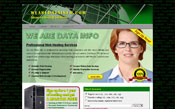 November 8th, 2009
To whom it may concern:
My name is John Weare, owner of We Are Data Info LLC. I would like to take this opportunity to introduce to you a business associate who has gone above and beyond the call of duty in customer satisfaction, to help my business reach its marketing goals.
After searching for over a year for an appropriate web designer who was also capable of working with a program interface, a friend referred me to Mr. Vautour. Mr. Rodger Vautour is the owner of Vautour Design Studio. Mr. Vautour's business involves web design and programming.
Mr. Vautour was able to develop and design a very attractive and functional website for my business in a very timely manner. He is very professional and easy to work with. Mainly, Mr. Vautour was able to provide everything that we required for our business that other web designers were not able to provide for us. We Are Data Info has a contract with Parallels Business Automation. Mr. Vautour was the only designer to bring our interface to WC3 compliance. Other designers we worked with failed to do this. Mr. Vautour has also worked on numerous other web site designs for other client's of whom I know personally, and all have been exceptionally pleased with his work.
It is my sincere desire that anyone who may read this letter, and be in need of these types of services, contact Mr. Vautour. I am sure that they will find him as pleasurable and easy to work with as I have. More importantly, the quality of his work will be an asset to anyone's business. If you have any questions, please feel free to contact me at

Thank you,
Mr. John Weare
We Are Data Info LLC
www.wearedatainfo.com
---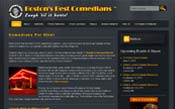 February 14th, 2011
Boston's Best Comedians has been running for better than three years. Since it's conception, Rodger Vautour of Vautour Design Studio has been a driving force in marketing our venue in print advertisements, online marketing campaigns, and especially the website he created for us.
It's the website that makes this room so unique. I am constantly getting calls from people who found us on Google and want to make a reservation to one of the shows or ask a question and I am frequently greeted with comments about the professionalism, the design, and the over all commitment to excellence. This room couldn't run with out the website Rodger Vautour developed for it.
I am very happy with all that Rodger has done for us... He is truly the best at what he does. If you want a website that will help you to develop your business, no matter what it is... Rodger Vautour is the web guy for you.
Thanks so much for all your hard work in making the China Blossom Comedy Room the best place for entertainment!!
Johnny Joyce
www.bostonsbestcomedians.com
www.johnnyjoycecomedy.com
---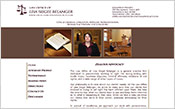 November 27, 2009
To Whom It May Concern:
One of the best business decisions I have made is to hire Rodger Vautour to service all my website needs. I love the fact that he is diligent in staying on top of this ever so fast changing environment to keep my business on the cutting edge. What makes him the cut above the rest is the personal attention that he devotes to his customers. He is creative and innovative, no matter what my budget is. He doesn't bog me down with technical jargon. He makes it so I can truly understand the process as a layman so I can make the best decision for me as to my advertising expenditures. Rodger provides me the peace of mind so I can spend my time focusing on providing services to my clients. Vautour Design Studio is a valuable asset to any business.
Lisa Siegel Belanger
Law Office of Lisa Siegel Belanger
www.belangerlawoffice.com
---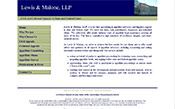 July 16, 2008
To Whom It May Concern:
I am an appellate attorney in Massachusetts and Colorado and have been practicing law for approximately fifteen years. I realized a few months ago that my firm's website needed to be completely redone. I cannot reiterate enough how happy I am that Rodger Vautour was available at the Social Law Library to do this project for me.
Rodger could not have been any more professional, responsive or courteous during this project. I sent him more emails than I would like to admit asking him to make what must have seemed tiny and insignificant changes to the draft webpages he had created. His response was always positive and accommodating and he made all the changes quickly and accurately.
I am delighted with how my firm's site turned out and would encourage anyone looking to create a professional website to contact Rodger; they will not be disappointed. I would be happy as well to speak with anyone who has any questions about working with Rodger and the work he did for my firm and me.
Sincerely,
David Lewis
www.appellatepracticegroup.com
---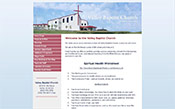 November 10, 2009
As a church we had Vautour Design Studio develop our web site. Rodger Vautour was able to design it just as we wanted and it looked so much better than if we had done it ourselves.
Valley Baptist Church
Yuma, Arizona
Glenn Connell
Pastor



www.valleybaptistyuma.com