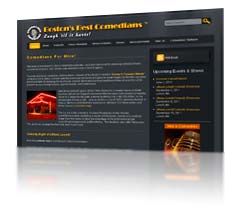 The China Blossom restaurant, open since 1960, is one of the oldest and most popular eating establishments in the Merrimack Valley. It offers fantastic Asian cuisine and an inspiring eating experience that reflects a synergy of the best of both Asian and American culture as well as world-class entertainment.
This comedy room features Boston's Best Comedians stand-up comedy run by local comedian Johnny Joyce, founder of Comics-4-a-Cause which was voted one of Boston's best performances by Boston Comedy Writers for three years in a row.
The show features many local comedians as well as comedians from around the country and is the main event every Friday & Saturday night at 9:30PM. The China Blossom offers an outstanding setting for watching Boston's premiere comedians bringing down the house.
Technologies used: ASP, Flash, After Effects, XHTML, CSS, JavaScript, XML
Click Here to view the live site.
* Also see the China Blossom Comedy Room Blog